You don't have to be a zombie or put yourself in harms way to enjoy the thrill of a good zombie outbreak! At least, not when the Zombies Playground is offering a number of awesome Zombie Games that are designed to recreate a classic zombie attack. Here in this category you'll find a number of zombie inspired games, each of which happens to be a perfect way to sit down and enjoy some quality time with friends and family, all while sharing your love of zombies with everyone present. Each game present in this category is a fully-fledged board game, complete with pieces, rules, and everything else you'll need in order to play the game. All you need to bring is an open mind and a willingness to enjoy a good zombie attack, when and if it should happen. Each of our Zombie Games is a great way to bring people closer together while sharing in a fun and friendly activity, all while simultaneously introducing others to the fun that can be had whenever zombies are involved.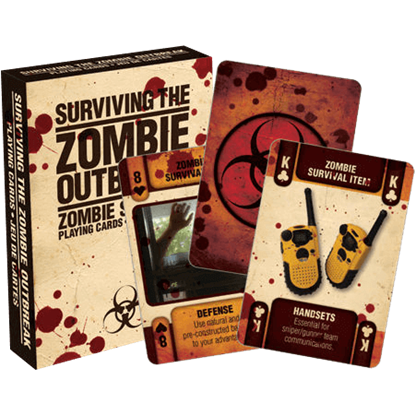 Item # ND-52257
Who says that you cannot learn about how to survive the zombie apocalypse and have fun at the same time? The Zombie Outbreak Playing Cards share tips on each of the cards of this poker-sized playing deck.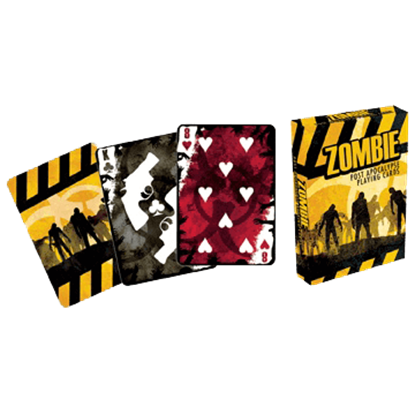 Item # ND-52-186
These zombie-styled cards are a quality source of entertainment before and after the zombie apocalypse. With the Zombie Post Apocalypse Playing Cards, you can play card games to pass the time, while entertaining yourself and others.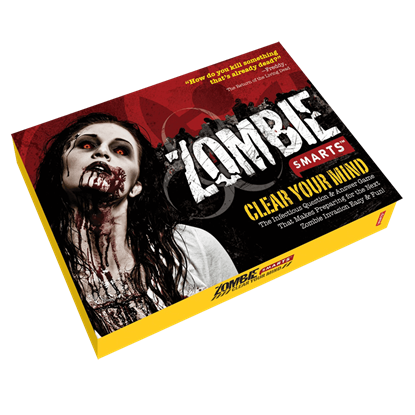 Item # ND-03109
Is there a way to test your knowledge about zombies while having loads of fun? This Zombie Smarts Game is an infectious question-and-answer game that features grisly facts about the history, habits, and hungers of the living dead.