Whenever you're looking for something truly ghoulish and zombified to decorate with, look no further than the Zombie Props Section at the Zombies Playground. Here you'll find standing zombies, crawling zombies, warning signs, body bags, and eerie little animals. And that's only naming a few items. For a truly impressive zombie style, these Zombie Props are almost indispensable, as they depict a wide assortment of concepts and themes, all of which are so perfectly "zombie" in their own way. You'll find a number of little oddities here, all perfect for decorating. Want to scare your guests with ghoulish bats, toads, and vultures? We have them and boy are they creepy looking. Want to go a little less subtle and stand a zombie up in your yard? Do you want a dead zombie, a zombie coming out of the ground, or a zombie holding a sign, because we have all three and many more available. If you want hands that stick out of the ground or gruesome and gory signs for parties or privacy, you can find them all here. Some of the props are animatronic, some of them are still. Some are plastic, some are latex, and some are foam. All of them, though, are incredibly detailed, so much so that people might actually mistake them for the real thing. Whenever you're decorating inside and out, turn to the Zombie Props section here at the Zombies Playground to fill all your zombified needs.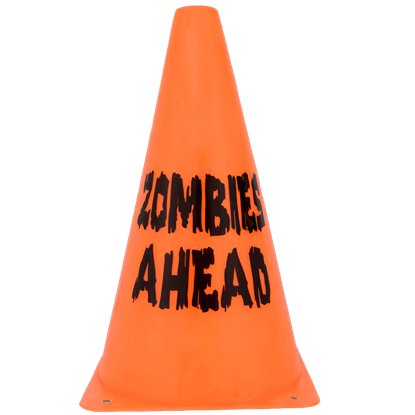 Item # MB-M37503
Typically an orange traffic cone is used to redirect traffic and indicate possible hazardous conditions on the road. The Zombie Head Cone can do just that, while also being a little more specific about what danger lies ahead.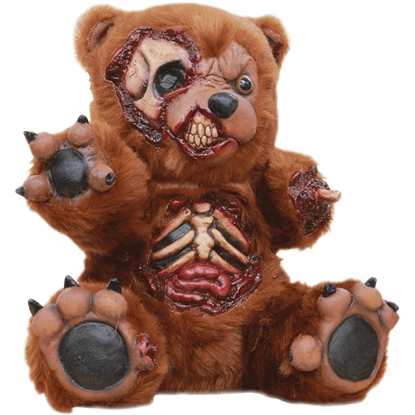 Item # HS-27095
It seems the zombie affliction affects even the cutest of creatures! This Zombified Bad Teddy may have once been cuddly and sweet, but not anymore. The ravages of a strange virus left it undead and hungry for the flesh of the living.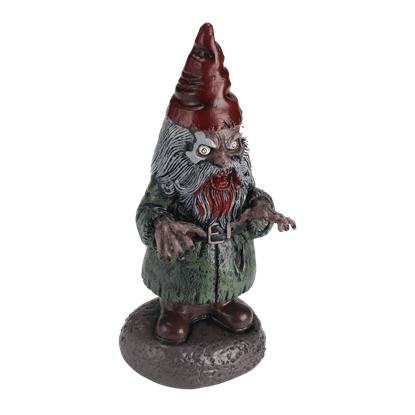 Item # FM-68167
Whoever said that garden gnomes were supposed to sweet and gentle creatures has obviously never met this one! Although the Zombified Garden Gnome might have been nice once, those days are long-gone now that it's a flesh-eating yard decoration!